Happy people

better work
An employee wellbeing program that creates a sustainable culture of workplace wellness and performance.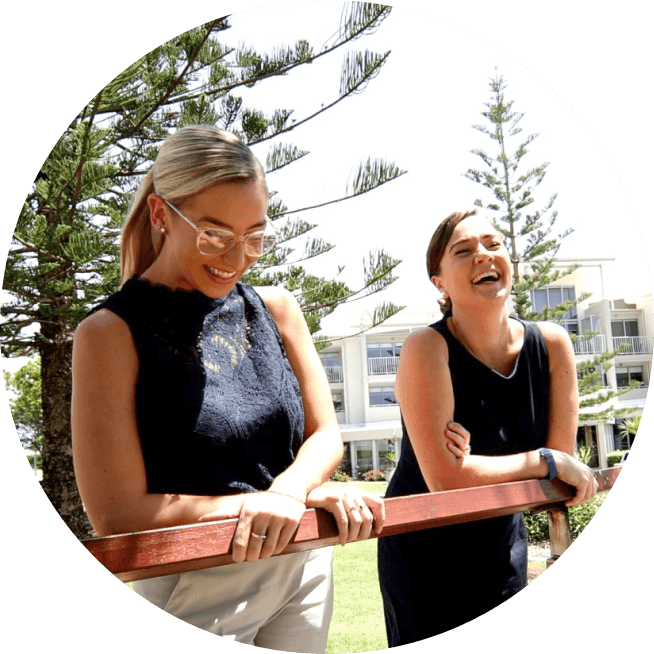 Is your team
thriving or just surviving?
At the core of our method is a 'battery check'; a way to measure your company's overall wellbeing and vitality. The battery score of your employees has a direct correlation to how they are feeling and performing at work. Each week your team can take a 60 second self assessment to help them understand how they can go from "survive to thrive".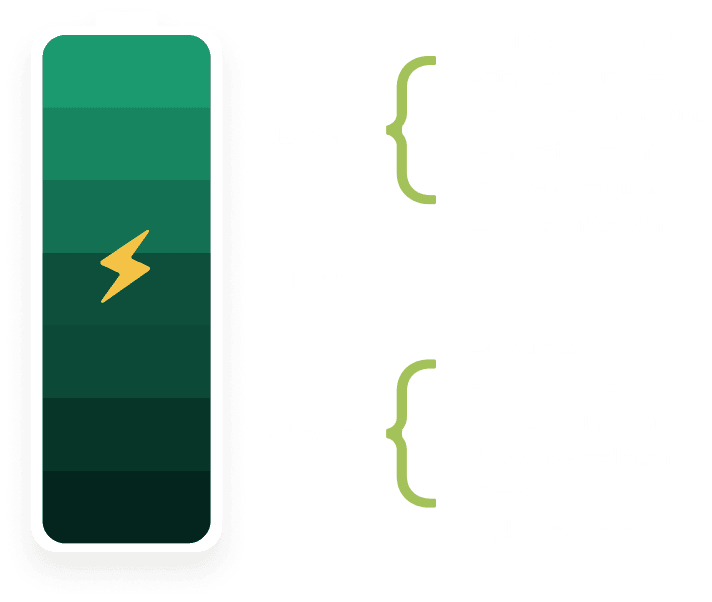 How we support your
employee's wellbeing
Employee Wellbeing Program
We've spent the last 10 years listening to our clients about their needs for workplace wellbeing. With their guidance, our expert team has developed a program that is practical, engaging, measurable and sustainable. Now it's your turn to benefit!
What's included in the program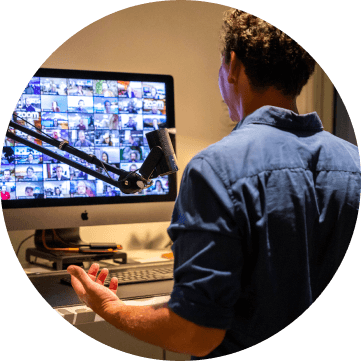 4 x Tailored Webinars
Create positive change and enjoy immediate results through fun, engaging and tailored sessions based on your company's battery.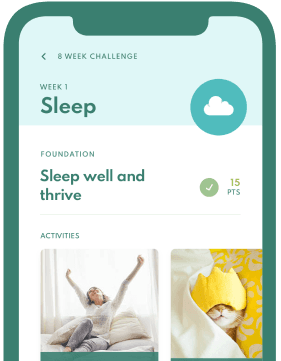 GreenX7 App for all employees
Measure wellbeing in 60 seconds and find tailored suggestions to recharge, find balance and take immediate action to improve wellbeing.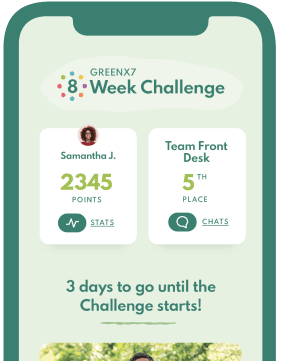 8 Weeks to Well Challenge
Perfect for remote workers to feel connected to their teams and build healthy habits along the way.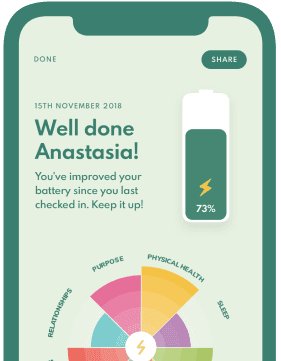 Wellness Reports
Receive regular reports to gain insight and track your organisation's overall wellbeing battery across the 8 Key Wellness Areas.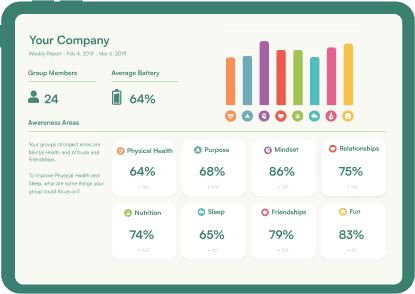 Data Dashboard Reports
Gain access to your online company dashboard with wellbeing data to give you a much better understanding on how your organisation is actually doing.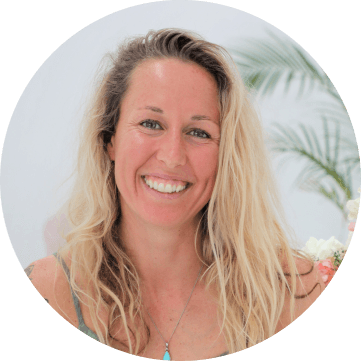 Ongoing support
Receive exclusive and ongoing assistance from our GreenX7 wellness experts and digital help team.
Conferences & Events
The GreenX7 Reconnect program brings to the forefront what employees need right now; Purpose, feeling valued, a sense of meaning and belonging. It's about creating connections, deepening culture and inspiring your people to share your organisation's vision.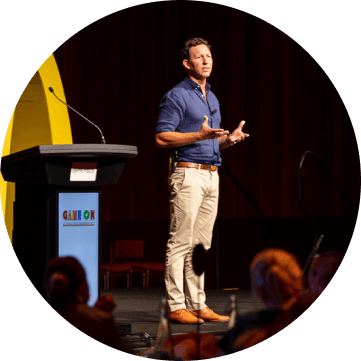 Keynotes
Impactful and engaging, keynotes from global thought leaders in wellness that will transform your team.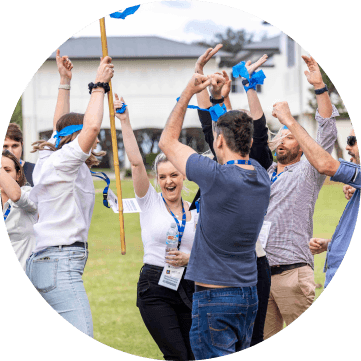 Team building
Build trust, strengthen connections and create a high-performing culture through fun and engaging challenges in a team environment.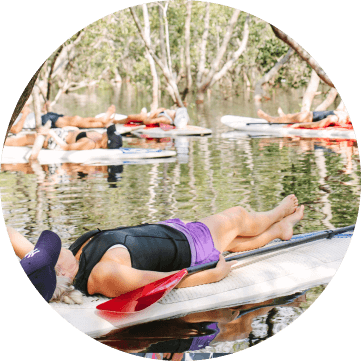 GreenX7 Experiences
We source local wellness professionals and utilise the natural surroundings to create an exceptional experience for your delegates.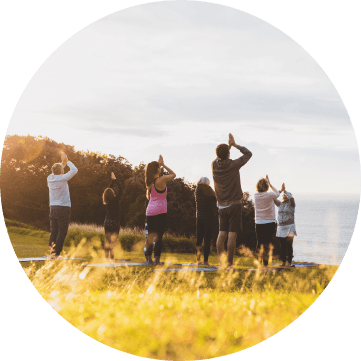 Wake ups
Enhance focus and awaken body and mind. We employ local professionals to provide a variety of options such as yoga, qigong, mindfulness, fitness classes and more.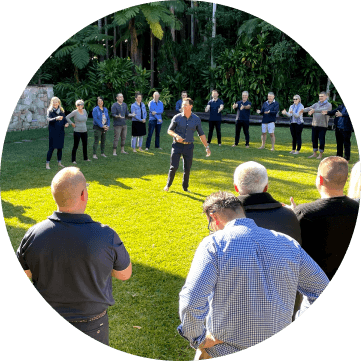 Workshops
Reconnect, rest and recharge your team with changes that are practical, relevant and actionable.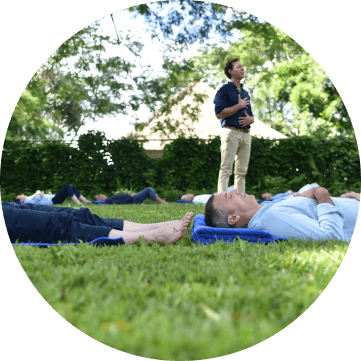 Energisers
Short energisers are vital for sustained high performance and help with creativity and attention span. Perfect for post lunch lulls or between heavy content sessions.
Bring wellness to
your workplace
Contact us to find out more
Measure your
See your company's overall battery
Your staff can regularly check-in with quick and easy battery checks on the GreenX7 app. Based on their wellness report, we suggest activities to improve their battery.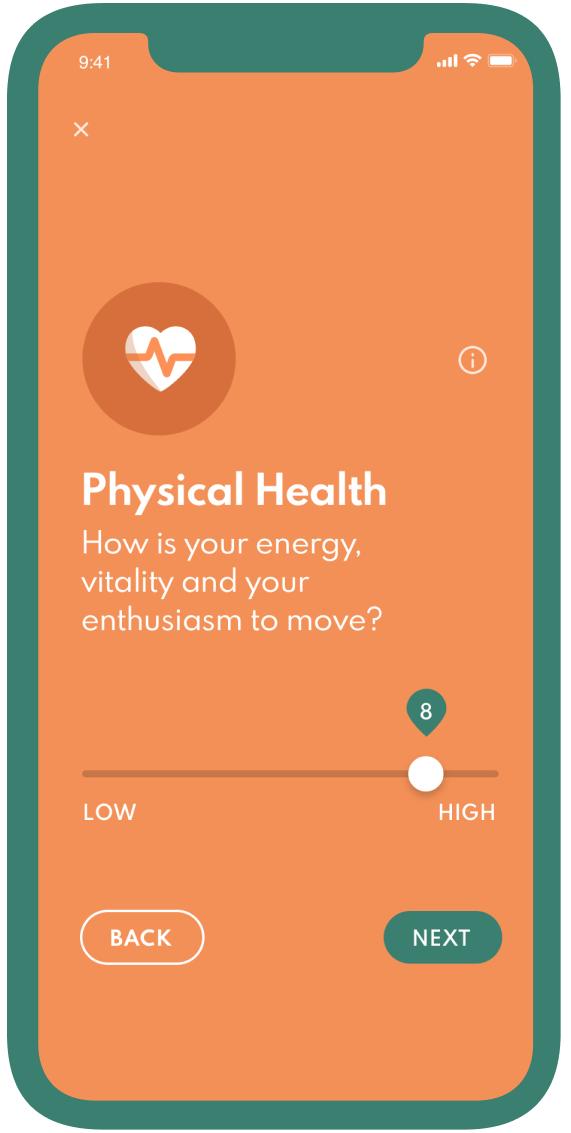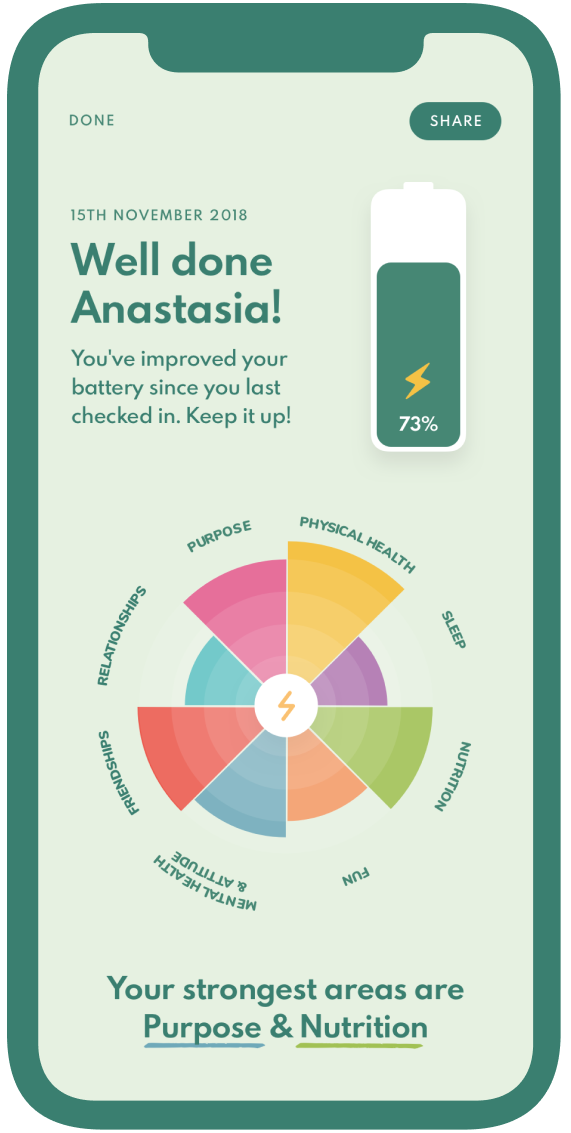 The average organisations battery
before implementing GreenX7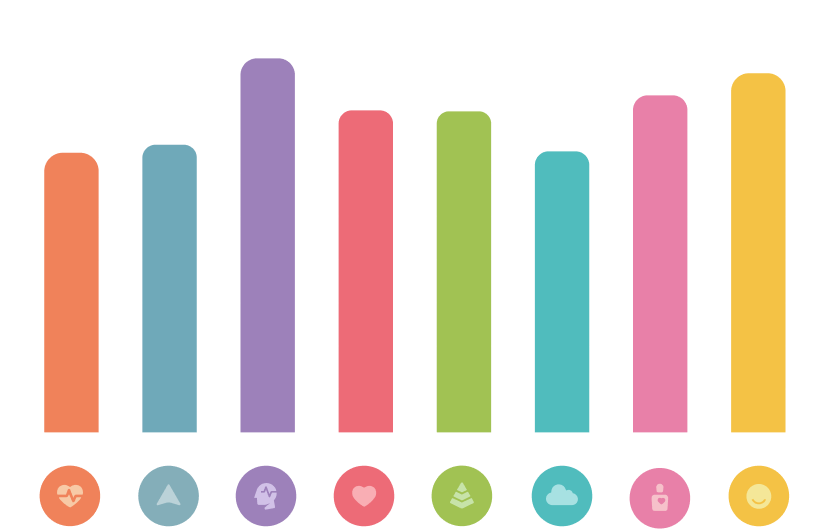 Awareness Areas
Book your free 60 second company 'Battery Check' today!
Testimonials
"CEO's, founders, movers and shakers, anyone with a team - this will literally change the way your people show up for themselves and as a leader, there is absolutely nothing more that I want for my team, then for them to loving the way they are living and experiencing their life. GreenX7 is changing the world one person at a time."
Michelle Mennillo
Chief Executive
OTFC Group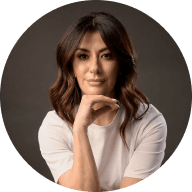 "The team at GreenX7 have worked with my staff and have been able to provide us with incredibly practical tools that we can implement on a daily basis in our lives to ensure that we are operating with optimal mental health and wellness."
Martine Gill
Principal
CLOVER HILL PRIMARY SCHOOL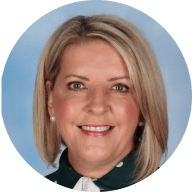 "GreenX7 reminds you of the beautiful environment we have at our fingertips and how to use this to improve our overall well-being, especially when dealing with difficult and stressful times. These techniques are now used every day by our team, providing a happy and more productive office!"
Melissa Best
Conference & Events manager
Accor Hotels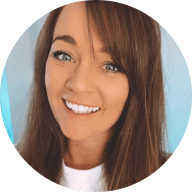 "It's kinda cool that my workplace cares about
my wellbeing

"

Carly O

workshop participant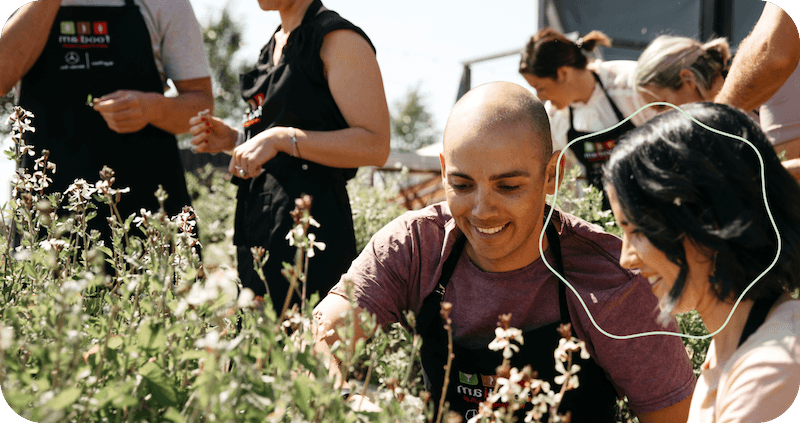 Companies we have
recharged